Olá little Swans! O post de hoje é sobre meus cosméticos favoritos atualmente (duh! O título fala por si!). Eu estou muito mais apaixonada por produtos para a pele ultimamente. Mas quem no mundo não ama uma pele macia e bonita?
Hey little Swans! Today's post is about my current favorite cosmetics (duh! The title says by itself!). I'm so in love with skin products lately. But who in the world doesn't love a soft and pretty skin?
1. Talco perfumado / Scented powder:
Gente, talco perfumado MUDOU MINHA VIDA! Em algum momento de nossas vidas vimos em algum filme antigo ou até mesmo nossas avós usando e não entendo porque as mulheres simplesmente pararam de usar! O perfume dura horrores, dá um efeito super macio pra sua pele e alguns (como o que uso atualmente, da Alma de Flores Queen) tem glitter! Amor demais!
Guys, scented powder CHANGED MY LIFE! In a moment of our lives, we saw in an old movie or even our grandmas using it and I don't understand why women simply stopped using powder! The scent lasts a lot, gives a super soft feel to your skin and some has glitter (as the one I use currently, by Alma de Flores Queen)! Too much love!
Marilyn arrasando com o pompom de talco! /
Marilyn rocking with the powder puff!
2.
Colônia da Hello Kitty por Betulla / Hello Kitty cologne by Betulla:
Ele não parece colônia infantil. Sério. Tem uma essência floral maravilhosa. Comprei um frasco vintage para carregar comigo na bolsa. Veio como um shampoo numa bolsinha plástica muito fofa, mas raramente uso.
It doesn't smell like a kid's cologne. Seriously. It has a wonderful floral scent. I bought a vintage atomizer to carry it with me in my bag. It came with a shampoo in a super cute plastic bag, but I rarely use it.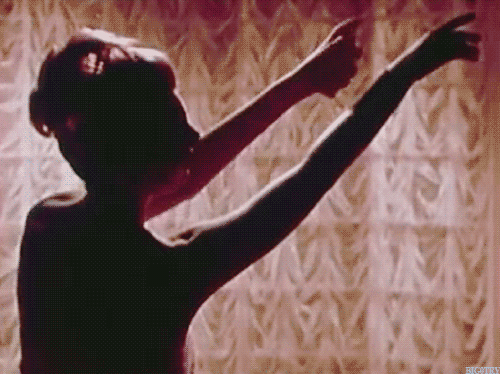 3. Óleo de bebê Johnson's / Johnson's baby oil:
Outro produto que mudou a minha vida! Limpa a pele, hidrata, deixa ela extremamente macia e serve pra um montão de coisa, como remover band-aids sem machucar!
Another product that changed my life! It cleans the skin, moisturize and makes it extremly soft and does a lot of stuff, like removing band-aids without hurting!
4. Batom vermelho / Red lipstick:
Eu sempre fui fã do batom vermelho, mas agora estou usando mais que antigamente! Liberta minha femme fatale, mas é um batom coringa que fica bem com qualquer roupa.
I've been always a fan of red lipsticks, but now I'm wearing it more than before! Sets my femme fatale free, but it's a lipstick that can match with every outfit.
Gif em preto e branco, mas todos nós sabemos que a Dita só usa batom vermelho!/
Black and white gif, but we all know that Dita wears red lipstick only!
Por hoje é só! Deixe um comentário e me diga quais seus cosméticos favoritos!
Beijos!
That's all folks! Leave a comment and tell me which are your favorite cosmetics!