Olá meus little swans! Como vocês estão? Hoje vou resenhar a loja Fille de Rockeur, que foca na customização de all-stars e na temática vintage & retro. Eu a conheci através da própria vendedora, a Fernanda, e ela é uma FOFA! Muito atenciosa e cuidadosa! Ao final do post, eu vou falar sobre meus quadrinhos favoritos do mês.
Hello my little swans! How are you? Today I'll review Fille de Rockeur, a store that is focused in Converse sneakers customization and vintage & retro motif. I met it by the seller herself, her name is Fernanda and she's a CUTIE! Very attentive and caring! In the end of this post, I'll talk about my favorite comics this month.
Bom, o que eu pedi foi um par de óculos de sol de gatinho. Se você comprar um par de óculos, a Fernanda fará uma bolsa para eles customizada! Eu escolhi a Harley Quinn, por quem ela também é muito fã. Também pedi para ela escrever meu nome atrás. Demorou um pouquinho para o pacote chegar, já que o serviço de correios aqui no Brasil está ficando cada dia pior ('-'). Esse é um dos pacotes mais lindos que já recebi apesar de tudo! A caixa é uma gracinha e tudo veio muito bem embalado num papel de poá rosa lindo!
Well, what I've ordered is a pair of cat eye sunglasses. If you buy a pair of sunglasses, Fernanda will make a custom case bag for it! I chose Harley Quinn, for who she is also a fan. I also asked her to write my name in the back. It took a while for the package to arrive, as the mail service in Brazil is getting even worse every day ('-'). This is one of the pretties packages I've ever received though! The box is so cute and everything came very well wraped in a pretty pink polka-dot paper!
Eu sei que tá escuro, mas tinha faltado luz o dia inteiro e eu estava muito ansiosa para esperar a luz voltar /
I know these photos are looking dar, but a blackout happened that day and I was too excited to wait
Quando eu desembrulhei, eu encontrei uma tiara! De início, eu não sabia como reagir, pois eu nunca tinha usado animal print na vida! Nunca fui fã desse tipo de estampa (diferentemente da minha mãe. Ela parece até uma versão alternativa da Cruella DeVil). Mas então eu experimentei e eu gostei bastante! Foi a primeira vez que gostei de alguma coisa com animal print em toda minha vida HAHAHAHA!
When I unwrapped it, I found a headband! At first, I didn't know how to react, as I never wore animal print in my life! I've been never a fan of this kind of print (differently of my mother. She even looks like an alternative version of Cruella DeVil). But then I tried it on and I liked it a lot! That was the first time I liked something with animal print in my whole life HAHAHAHA!
Os óculos / The sunglasses:
Eu estava com medo dos óculos ficarem muito grandes em mim, já que tenho rosto pequeno. Mas diferente do que eu imaginava, eles não são tão grandes! Eles são bem glamourosos, porém discretos. Senti que proporcionam a proteção adequada contra os raios de sol. Na verdade, um par clássico de óculos escuros, perfeitos para qualquer look vintage.
I was afraid of the sunglasses look too big on me, as I have a small face. But differently of what I expected, they aren't big! They are very glamorous though discreet. I felt like it gives the appropriate protection against the sunlight. Actually, a classic pair of sunglasses, fit for any vintage look.
Nota final / Overall rating:
♥♥♥♥♥
5/5!
E agora, vou começar uma coisa nova aqui no blog: quadrinhos do mês! Eu vou citar todos os meus quadrinhos favoritos do mês respectivamente. Então vamos lá:
And now, I'll start something new here in the blog: comics of the month! I'll mention all of my favorite comics of each month in a personal order. So let's go:
#1: DC Bombshells - Issue 1
Eu passei um mês INTEIRO contando os dias para o lançamento dessa HQ! Se você não conhece a DC Bombshells, deixe-me explicar: tudo começou com uma linha de estatuetas inspiradas em pin-up, no movimento feminista e na moda dos anos 50 e 40. O sucesso foi tão grande que a DC resolveu fazer os quadrinhos e você já pode comprar a primeira edição para ler digitalmente! E valeu a pena esperar! A primeira personagem a ser introduzida foi Kate (Batwoman), uma jogadora de baseball que também luta pela segurança de Gotham City e tem uma namorada fofíssima e estilosa (sim, meus little swans, não há espaço pra preconceito aqui!). A próxima edição provavelmente irá nos introduzir à Mulher-Maravilha desse universo vintage da DC.
I spent the WHOLE month doing a countdown for the release of this comic! If you don't know what DC Bombshells is, let me explain: it all started with a line of statues inspired by pi-up, feminism and the fashion from the 50's and 40's. After an enormous success, DC decided to launch its comics and you can now buy the first issue for digital reading! And it was worth the wait! The first character to be introduced was Kate (Batwoman), a baseball star who also fights for the security of Gotham City and has an adorable and stylish girlfriend (yes, my little swans, there's no place for prejudice here!). The next issue will probably introduce the Wonder Woman of this vintage DC universe.
#2 - Convergence: Wonder Woman
Sobre minha heroína favorita contra meu vilão favorito: EU NÃO TÔ SABENDO SEGURAR O FORNINHO! E olhem o quão sexy essa arte é, pelo amor de Deus! A DC quer destruir meus sentimentos! Enfim, vamos falar do enredo: Diana está em Gotham City com Steve Trevor, até que uma estranha redoma surge em volta do nosso planeta, gerando uma crise entre os universos da DC Comics (por isso o Joker vampiro, que é de um universo alternativo de Batman).
About my favorite heroine against my favorite villain: I JUST DON'T KNOW HOW TO DEAL WITH THIS! And look how sexy this art is, for God's sake! DC wants to destroy my feelings! Anyway, let's talk about the plot: Diana is in Gotham City with Steve Trevor, then a weird dome appears around our planet, starting a crisis among the universes from DC Comics (explaining the vampire Joker, which is from a Batman alternative universe).
#3 - Harley Quinn - Valentine's Day Special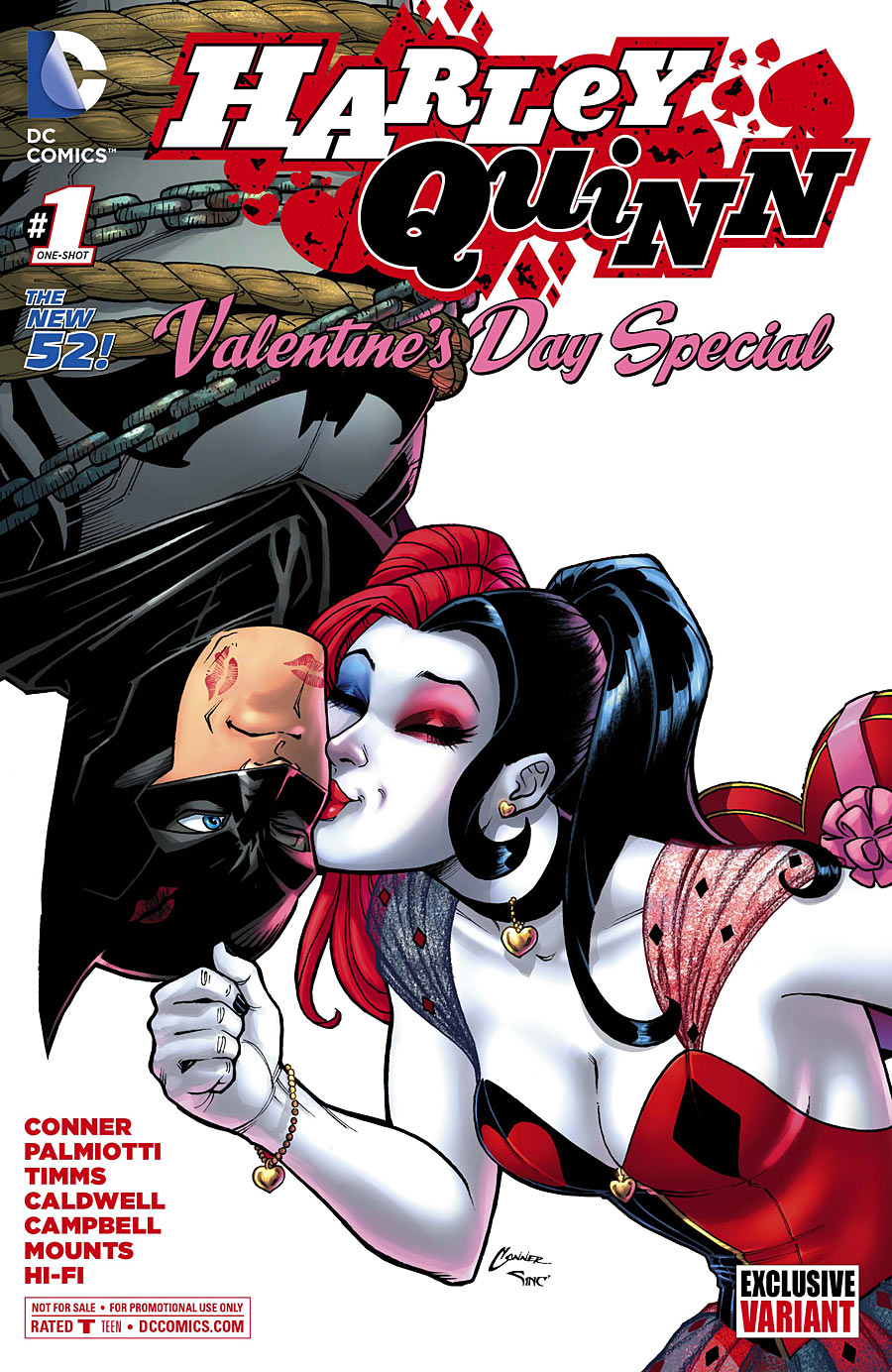 Levou meses para publicarem essa edição especial aqui no Brasil porque nós curiosamente comemoramos dia dos namorados em junho (bom, eu não, mas os outros brasileiros sim). Eu comprei achando que iria detestar, já que eu sou uma fã de Harley x Joker MUITO cabeça-dura, mas é completamente diferente de tudo o que eu esperava! Amanda Conner, como sempre, me surpreende e me faz amá-la cada vez mais <3
It took months to them to publish this special edition here in Brazil because we curiously celebrate Valentine's Day in June (well, I don't, but other Brazilians do). I bought it expecting to hate it, as I'm a PRETTY strong-minded Harley x Joker shipper, but it's totally different from everything I expected! Amanda Conner, as usual, surprises me and makes me love her even more!
Isso é tudo! Você já comprou na Fille de Rockeur? O que achou? Se interessou pela loja? Quais quadrinhos você mais gostou em julho? Deixe um comentário! Beijos!
That's all folks! What do you think? Do you like this review? Which comics are your favorites in July? Leave a comment! Kisses!