Via WeHeartIt
Olá little swans! Hoje vim falar um pouco sobre meu gosto musical, o que você encontra no meu iPod e quem são meus artistas favoritos. Eu não gosto de músicas antigas, nem de rock, então não esperem que esse post seja muito vintage :P
Hello little swans! Today I'll talk a little about my music taste, what you can find on my iPod and who are my favorite artists. I'm not a fan of old music, neither rock, so don't expect this post to be super vintage :P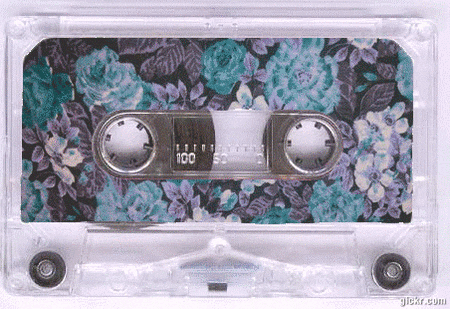 Na maior parte do meu tempo, eu escuto pop alternativo, mas também gosto de "pop comercial". Eu gosto de artistas com quem eu posso me identificar visualmente e musicalmente. Gosto de álbuns conceituais e clipes com um visual de fazer brilhar os olhos. Eu também não sou fã de músicas melo-românticas, ás vezes abro exceções, mas normalmente gosto de músicas trágicas. É por isso que essas são minhas cantoras favoritas:
Most times, I listen to alternative pop, but I also like "commercial pop". I like artists who I can relate with, visually and musically. I like albums that have a concept and stunning-look music videos. I'm not a fan of romantic songs too, there are exceptions, but I usually like tragic songs better. That's why these are my favorite singers:
MARINA AND THE DIAMONDS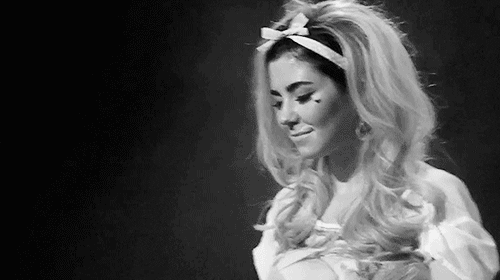 Eu já havia feito menção a ela aqui, mas nunca irei me cansar de falar sobre Marina Diamandis! Marina está no seu terceiro álbum de estúdio, e "Electra Heart", seu segundo, é e sempre será meu favorito. Marina me encantou de primeira quando vi ela performar Homewrecker acústico. A vibe vintage, a paleta de tons pastéis e o visual adorável da personagem do álbum estarão sempre no meu coração. Marina nunca repete o visual, por isso eu sei que Electra Heart será sempre meu favorito; ela não fará nenhum outro álbum igual! Mas claro, eu também amo os outros dois álbuns.
I've mentioned her before, but I'll never get tired of talking about Marina Diamandis! Marina is on her third stuido album, and "Electra Heart", her second one, is and will always be my favorite. It was love at the first sight when I saw her performing the acoustic of Homewrecker. The vintage vibe, pastel color palette and the adorable look of the character of the album will be always in my heart. Marina never repeats the concepts, so that's why I know that Electra Heart will be always my favorite; she will never do anything like that again! But of course, I love the other two albuns as well.
MELANIE MARTINEZ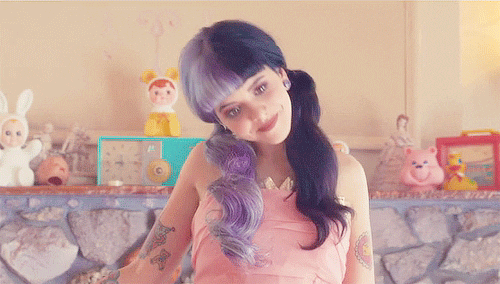 Tão única, tão jovem, tão fofa, tão Melanie Martinez. Ela foi até a reta final do The Voice aos 17 anos e encantou o mundo com seu estilo único e cabelo de duas cores. Melanie compõe através de brinquedos antigos, e por isso seu álbum de estréia, "Crybaby", inicialmente soa como um álbum infantil, mas as letras são pesadas e violentas. Eu o escuto inteiro mais de uma vez por dia (sério). Estou ansiosa para ver como será a Melanie futuramente, mas eu espero que ela mantenha essa vibe.
So unique, so young, so cute, so Melanie Martinez. She was a The Voice finalist at age 17 and world fell for her fancy style and two-tone hair. Melanie writes her songs using vintage toys, that's why her debut album "Crybaby" may sound as an album for children at first, but the lyrics are heavy and violent. I listen to it more than once a day (seriously). I'm excited to see her future projects, but I hope her to keep with this vibe.
LANA DEL REY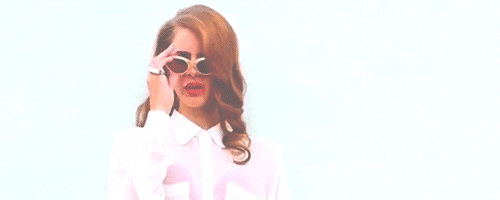 Acho que seria um pouco chocante se eu não mencionasse a Lana. Todos nós sabemos que ela foi uma das responsáveis por fazer o vintage virar tendência. Eu amo a voz assombrosa da Lana, suas roupas, a arte dos seus álbuns e sua originalidade. Ela é muito ousada e não tem medo do que vão pensar disso. Inclusive, ela lançou uma música com o meu nome no seu álbum mais recente "Honeymoon", "Swan Song". Hã, hã, sacou? #PiadaRuim
I think that it would be a little shocking if I didn't mention Lana. We all know that she was one of the responsibles for making the vintage a trend. I love Lana's haunting voice, her clothes, the art of her albums and her originality. She's very daring and she's not afraid of what people think about it. By the way, she released a song with my name on it on her newest album "Honeymoon", "Swan Song". Ha, gotcha? #BadJoke
LADY GAGA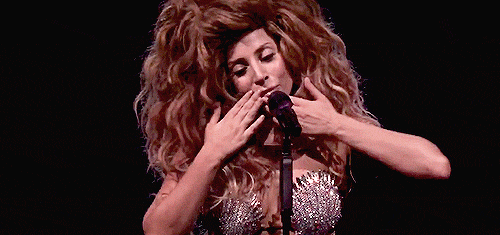 Amada por muitos, odiada por outros, mas não importa. Gaga é a irreverente madrinha da comunidade LGBT e muitos homossexuais, transsexuais e bissexuais superaram suas dores por causa dela. Nascida Stefani Germanotta, a princesa do pop também já passeou pelo burlesque (o que chocou seus pais) no início de sua carreia. Gaga é amor, gaga é vida! Minha era favorita é a The Fame.
She's loved by many, hated by others, but it doesn't matter. Gaga is the daring godmother of the LGBT community and many homosexuals, transexuals and bisexuals got over their struggles because of her. Born Stefani Germanotta, the princess of pop has been also a burlesque performer (and that shocked her parents) in the beginning of her career. Gaga is love, Gaga is life! My favorite era is The Fame.
KATY PERRY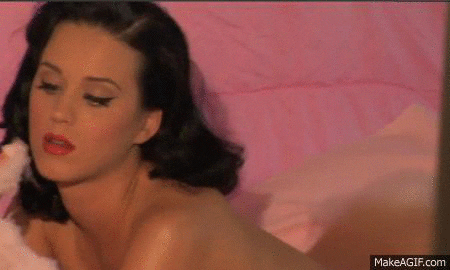 Uma cantora e uma pin up ao mesmo tempo, bem-vindo ao mundo de Katy Perry! Eu sou perdidamente apaixonada pelo seu estilo fofo, sexy e cômico, tudo junto e misturado. Meu álbum favorito é o Teenage Dream e eu adoro como ela se inspira na Bettie Page.
A singer and a pin up at the same time, welcome to the world of Katy Perry! I'm forever in love with her cute, sexy and hilarious style, all in one. My favorite album is Teenage Dream and I love the way she inspires in Bettie Page.
CHRISTINA AGUILERA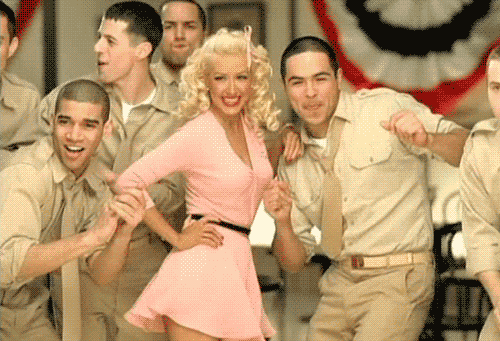 Quem não ama a Xtina? Essa mulher é um ESCÂNDALO! #OutraPiadaRuim
Christina ganhou meu coração com a vibe retrô de Back To The Basics e com sua voz poderosa. Ás vezes eu tiro onda chamando ela de Canário Negro, e chamando a Canário Negro de Christina (mas até que faz sentido, vai?). Eu nunca vou me cansar do clipe de "Candyman"!
Who doesn't love Xtina? This woman is SCANDALOUS! #AnotherBadJoke
Christina won my heart with the retro vibe of Back To The Basics and with her powerful voice. Sometimes I joke about it and call her Black Canary, and calling Black Canary as Christina (but it makes sense, right?). I'll never get rid of the "Candyman" music video!
CYNDI LAUPER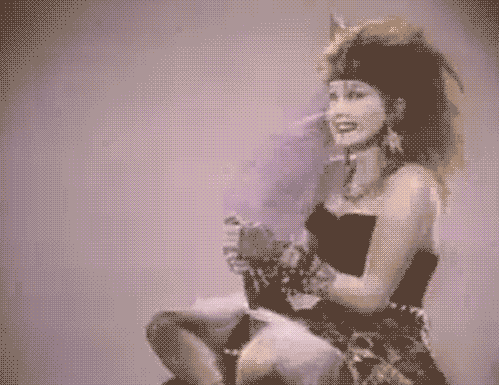 Alguns dizem que a voz dos anos 80 foi Madonna, mas eu não acredito. Cyndi Lauper é a verdadeira rainha da década, porque ela mostrou que as garotas só querem se divertir! Até hoje, Cyndi é bem original com seus looks, e me faz querer ser assim nos meus 62 anos. Seu timbre de voz é muito único!
Some people say that the voice of the 80's was Madonna, but I don't believe it. Cyndi Lauper is the real queen of the 80's, because she showed that girls just wanna have fun! Since nowadays, Cyndi is very original with her looks, and it makes me want to be like her in my 60's. Her voice is very unique!
Tem muitas outras artistas que amo, como Rihanna, Nicki Minaj, Beyoncé, Depeche Mode... Também escuto Kpop (2NE1, SNSD, Big Bang, T-ara, Super Junior), mas não como na minha pré-adolescência. Não preciso dizer novamente que não sou uma pessoa do rock, mas tem uma única banda que me marcou profundamente: Thirty Seconds To Mars. É, a "banda do Jared Leto". Talvez seja por causa da minha falta de interesse por rock que meus álbuns favoritos são os mais puxados para o electro-rock e pop-rock (This Is War e Love Lust Faith + Dreams). Eu comecei a ouvir a banda num momento da minha vida em que eu precisava de apoio emocional e o 30STM me deu isso. Logo tive contato com o Echelon (o fandom) e eu tive certeza de que eu queria ouvir a banda até o fim da minha vida. Foi muito especial para mim. E eu quase infartei com o clipe em que a Dita Von Teese faz uma aparição!
There are many other artists I love, such as Rihanna, Nicki Minaj, Beyoncé, Depeche Mode... I also lsiten to Kpop (2NE1, SNSD, Big Bang, T-ara, Super Junior), but not as in my pre-teen years. I don't have to say again that I'm not a rock person, but there's only one band that was deeply remarkable to me: Thirty Seconds To Mars. Yeah, "Jared Leto's band". My favorite albuns are This Is War and Love Lust Faith + Dreams, probably because they're more like electro-rock and pop-rock. I started listening to the band in a moment of my life where I was desesperate for emotional support and 30STM gave it to me. Then I had my first contact with the Echelon (the fandom) and I was sure that I will listen to this band until the end of my life. It was very special to me. I almost died when I watched the music video where Dita Von Teese did a little appearance!
Isso é tudo pessoal! Quero saber o que tem no iPod, celular, ou mp-alguma-coisa de vocês. Deixa um comentário! Beijos!
That's all folks! I wanna know what's on your iPod, phone, or mp-something. Leave a comment! Kisses!