Oi meus little swans lindos! Esse post e é bem diferente; não tem nada relacionado ao universo vintage, nem geek, é sobre sereias! E quem não ama sereias?
Não há dúvidas que as mulheres-peixe são as criaturas fantásticas mais queridas atualmente, e cada vez mais vemos meninas e mulheres aspirando viverem como uma sereia, mas não sabem como. Por isso, eu organizei essas dicas não só para as sereinhas em treinamento, como para todas as outras, sejam de água doce ou salgada!
Hello my beautiful little swans! This is a very different post: it's not related to vintage universe nor geek, it's about mermaids! And who doesn't love mermaids?
There's no doubt that the women with a fish tail are the most beloved fantasy creatures today, and everyday we see girls and women aspiring to live like a mermaid, but they don't know how. That's why I organized these tips not only for little mermaids in training, but for all of us, no matter if you belong to saltwater or fresh water!
Cuide da natureza!
Care for nature!
Essa é a coisa mais importante sobre viver como uma sereia. A água é o elemento mais essencial na vida dos seres da Terra, ela compõe a maior parte do nosso planeta e apenas 3% dela é doce. Além disso, muitas espécies de animais, marinhos ou não, estão entrando em extinção. As sereias não podem permitir que a natureza seja destruída! Tenha consciência do consumo de água e eletricidade, nunca deixe lixo na areia quando for à praia, recicle e compre menos produtos testados em animais. Sereias unidas para um mundo mais limpo!
Dica bônus
: "Sabe aqueles negócios de plástico que vêm em volta de latas de bebida quando você compra seis latinhas? Corte os círculos para que não sejam mais círculos e depois jogue fora. Ás vezes, esses negócios vão parar no mar e os focinhos dos golfinhos são pegos acidentalmente por aqueles círculos e eles ficam com a boca presa, não podem comer nada e morrem de fome." (Dica retirada do livro "Lições de Princesa" de Meg Cabot)
This is the most important thing about living as a mermaid. Water is the most essential element in the life of Earth beings, it composes the most part of our planet and only 3% of it is fresh. Besides, many species of animals, marine or not, are endangered. Mermaids never allow the destruction of the nature! Be conscient on water consumption and light, never leave garbage on the sand if you go to the beach, recycle and buy less products tested on animals. Mermaids united for a better world!
Bonus tip: "You know those plastic things that come around cans of soda when you buy a six-pack? Clip the holes so they aren't holes anymore, then throw it away. Sometimes those things get into the ocean and dolphins' noses accidentally slip through those holes, and they get stuck with their mouths closed, and they can't eat anything and they starve to death." (Tip from the book "Princess Lessons" by Meg Cabot)
... E cuide de você mesma também!
...And care for yourself as well!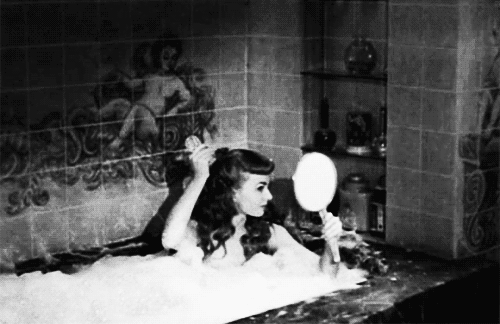 Todo mundo sabe: sereias são hiper vaidosas! Tenha cuidado com a sua pele e cabelos, pois você só tem um de cada. Lembre-se de lavar o rosto pela manhã e à noite, use protetor solar mesmo quando não for à praia ou piscina (é a única coisa que realmente previne o envelhecimento precoce), tenha sempre um hidratante capilar para fortalecer suas madeixas e não se esqueça da higiene oral! E ah, nunca, jamais, durma com maquiagem!
Everybody knows: mermaids are obsessed with self care! Take care of your skin and hair, you have only one of each. Remember to wash your face by the morning and before sleep, wear sunscreen even when you're not at the beach or pool (FPS is the only thing that really prevents premature aging), always have a hair moisturizer to make your locks stonger and don't forget the oral hygiene! Also, never ever sleep with makeup on!
Coloque a mão na massa!
Be crafty!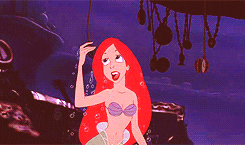 Sereias são criativas e estão sempre inventando coisas. Quer uma blusa de conchinhas?
Tente fazer uma sozinha
! Compre um pacote de pérolas de plástico (acreditem em mim, é melhor usar pérolas falsas porque a ostra morre se tiver a sua retirada) e faça seus acessórios, pinte um livro de colorir (como "Oceano Perdido" de Johanna Basford),
crie sua coroa
... Tem sempre alguma coisa legal e criativa para fazer!
Mermaids are creative and love creating new stuff. Want a seashell T-shirt? Try DIY it! Get a pack of plastic pearls (believe me, it's better to use fake pearls because an oyster dies if someone extract its pearl) and craft your accessories, color a coloring book (such as "Lost Ocean" by Johanna Basford), create your crown... There's always something nice and creative to do!
Abrace as diferenças!
Embrace the differences!
Nem todas as sereias são magras. Assim como os humanos, elas vêm em diversas formas e tamanhos, por isso devemos respeitar umas as outras. Todas somos lindas e poderosas!
Not every mermaid is skinny. Just like humans, they come in many shapes and sizes, that's why we must respect each other. We're all pretty and powerful!
Conecte-se com as outras sereias!
Connect with other mermaids!
É sempre bom fazer novas amizades, principalmente pra compartilhar os mesmos interesses. Que tal começar um grupo sereístico no Facebook ou Whatsapp?
It's always good to make new friends, specially to share the same interests. What about starting a mermaid group on Facebook or at some chat app such as Whatsapp, Line and Kik?
Assista à filmes e séries de sereia!
Watch mermaid movies and shows!
Porque claro, nós também precisamos de um descanso divertido! Aqui vai minha lista pessoal de filmes e séries de sereia:
. H2O - Meninas Sereias (série, disponível no Netflix)
. Mako Mermaids (série, spin-off de H2O - Meninas Sereias; disponível no Netflix)
. Aquamarine (filme, disponível no Netflix)
. A Pequena Sereia da Disney (filme e série animada)
. Barbie Fairytopia - Mermaidia (filme em animação)
E
aqui
temos uma lista de filmes
vintage
sobre sereias!
Because of course, we also need to chill! Here is my personal list of mermaid movies and shows:
. H2O - Just Add Water (show, available on Netflix*)
. Mako Mermaids (show, a H2O - Just Add Water spin-off; available on Netflix*)
. Aquamarine (movie, available on Netflix*)
. Disney's The Little Mermaid (movie and animated series)
. Barbie Fairytopia - Mermaidia (animated movie)
Click here to check out a list of vintage mermaid movies!
Por último, mas não menos importante: beba água!
Last, but not least: drink water!
Água é essencial não só para sereias, mas qualquer ser terráqueo. Então beba bastante (porém sem exageros) e não se esqueça de que frutas também possuem água. Mantenha-se hidratada!
Water is essential not only for us mermaids, but any Earth being. So drink a lot of it (but don't exaggerate) and don't forget that fruits also have water. Keep yourself hydrated!
Isso é tudo pessoal! Se vocês querem mais posts sobre sereias, me deixem saber nos comentários! XOXO!
That's all folks! If you want more posts about mermaids, let me know and leave a comment! XOXO!
* Based upon the US and Brazilian catalogues. Please check the catalogue of your country's Netflix.