Olá little swans, como prometido eu vou voltar a falar de leituras do mês, e também falarei dos meus filmes favoritos de janeiro! Mas antes, gostaria de comunicar que agora eu tenho
meu próprio podcast
! Graças ao Terra Zero, eu e mais duas amigas conseguimos abrir nosso cantinho para falar de nerdices do ponto de vista feminino e é a primeira vez no site em que um podcast é comandado somente por mulheres. Se interessou? Então
clique aqui
e venha conhecer o Bolsa Nerd! Eu também participei novamente do Por Trás da Máscara do Terceira Terra em dezembro e janeiro juntamente com meu namorado:
Edição 198
.
Edição 199
.
Edição 201
Agora falando das leituras de janeiro:
Hey little swans, as promised I'll talk about my monthly readings and also about my favorite movies of January!
♥ "Cerulean" de Catharina Baltar: Uma HQ indie e brasileira que começou na vaquinha online Catarse sobre uma sereia apaixonada por tecnologia humana. Infelizmente não pude contribuir no projeto, mas meu namorado sim, e "peguei emprestado" enquanto estive na casa dele. É curto, devo ter lido em menos de dez minutos, porém apaixonante! Arte toda em nankin e aquarela, história linda e para todas as idades.
♥ "Batman - Pequena Gotham": Esse tava na minha lista de leitura há muito tempo, mas queria ler pessoalmente e não me arrependi de ter esperado. A arte é maravilhosamente fofa, assim como a história. Cada capítulo se passa em um feriado diferente (como Halloween, dia de ações de graça e dia dos namorados). Se tornou um dos meus universos favoritos de Batman!
♥ "Uma Noite com Audrey Hepburn" de Lucy Holliday: Eu comprei esse livro na black friday e eu estava lendo até rápido para meus padrões, mas os ensaios loucos do ballet e a viagem atrasaram minha leitura. Enfim, é um chick-lit perfeito para fãs da Old Hollywood e de chick-lit, claro. A fracassada atriz Libby Lomax narra sua vida de azares, até que um dia ela vê Audrey Hepburn ao vivo e à cores na sala de seu minúsculo apartamento. A diva dá conselhos à Libby e, assim, ela começa a encontrar seu lugar no mundo. Uma leitura rápida, descontraída e muito bem humorada, promete boas risadas e Libby é uma personagem bastante identificável por não ser um ideal, heroína ou um modelo a ser inspirado.
♥
"Your Beauty Mark" de Dita Von Teese
: Então chegou (se não entendeu, leia
esse post
)! Mas vou deixar para falar dele na resenha da semana que vem ;)
♥ Catharina Baltar's "Cerulean": A Brazilian indie comic about a mermaid passionate for human technology that started as on a fundraising website. Unfortunately, I couldn't donate, but my boyfriend did, so I "borrowed" it while I was at his place. It's very short, I believe I read it in ten minutes, but it's lovely! The art consists in nankin and watercolor techniques, beautiful plot and it's enjoyable for all ages.
♥ "Batman - "Lil Gotham": It's been on my reading lists for a long time, but I wanted to read it personally and I don't regret waiting. The art is beautifully adorable, and so is the plot. Each chapter is set on a different holiday (as Halloween, Thanksgiving and Valentine's Day). It's now one of my favorite Batman universes!
♥ Lucy Holliday's "A Night in with Audrey Hepburn": I got this book on black friday and I was actually reading it really fast for my standarts, but my crazy ballet rehearsals plus my trip didn't let me finish it. Anyway, it's a perfect chick-lit for Old Hollywood and (of course) chick-lit fans. Frustrated actress Libby Lomax narrates her disastrous and bad-luckily life, until she finds Audrey Hepburn alive at her small apartment. The iconic diva gives Libby some advices, helping Libby to find her place in the world. It's a quick, well-humoured reading, made me laugh at many parts and Libby is a very relatable character since she's not a heroine or an ideal role-model to feel inspired by.
♥ Dita Von Teese's "Your Beauty Mark": So it has arrived (if you don't get it, read this post)! But I'll talk about it later on next week's review ;)
Filmes favoritos do mês / Favorite movies of the month:
♥ "Ninfomaníaca" de Lars Von Trier: Eu finalmente tomei coragem a apertei o play para assistir ao sexplotation do polêmicon Von Trier. Senti uma leve decepção quando apareceu a mensagem na versão do Netflix dizendo ser a versão censurada e com cortes, mas assisti mesmo assim e eu gostei bastante. Eu subestimei muito desde que foi lançado, achei que o filme não tinha nada além de sexo, mas a verdade é que tem um enredo incrivelmente tenso e bem feito. Por algum motivo, gostei mais do volume I do que do II, acho que a passagem de tempo deu um "tcham" no primeiro filme. Agora vou ver se terei paciência pra assistir à versão estendida e sem censura de cinco horas.
♥
"The Rocky Horror Picture Show" de Jim Sharman:
Eu me arrependo de ter demorado tanto pra ver esse filme. Agora entendo porque é um clássico e tão amado! Todos os personagens me cativaram, até o Dr. Frank-n-Furter (travesti do planeta Transexual da galáxia de Transilvânia). Acho que não tenho muito o que dizer, vocês devem saber muito bem do que esse musical se trata.
♥ Lars Von Trier's "Nymphomaniac": I was finally brave enough to press play and watch Von Trier's controversial sexplotation. I was kind of disappointed when a message on Netflix's version appeare claiming that it was the censored but I watched anyway and I liked it a lot. I underrated this movie since it was released, I thought that it has nothing but sex, but the truth is that the plot is really, really good. For some reason, I liked vol. I better than vol. II, I think that the time elapsing had a charming feeling on vol. I. Now I'll manage to be patient enough to watch the 5-hour extended and uncensored version.
♥ Jim Sharman's "The Rocky Horror Picture Show": I regret taking so long to watch this movie. Now I understand why it's a beloved classic! All of the characters captivated me, even Dr. Frank-N-Furter (a travesti from the Transexual planet, Transylvania galaxy). I think I don't have much to say, you all know what this musical is about.
E
menção honrosa
à
"Nurse"
de Doug Aarniokoski
, um terror "erótico" que de terror não tem nada! A ideia é até interessante: uma espécie de Bettie Page moderna (Paz de la Huerta) trabalha como enfermeira durante o dia e à noite sai para matar homens que traem suas esposas. O filme tem fotos promocionais incríveis e uma estética boazinha, mas a execução foi terrível. Eu sou a pessoa mais medrosa do mundo, já passei dois meses sem dormir direito por ter visto filme de terror, e cheguei a chorar de rir enquanto assistia. A atuação de la Huerta também não ajuda em nada. Se tornou meu filme horrível favorito, que de tão ruim eu gostei.
And honorable mention to Doug Aarniokoski's "Nurse", an "erotic" horror that looks nothing like horror! It has an interesting idea: a modern Bettie Page-like nurse (Paz de la Huerta) goes out to kill men who cheat on their wives by night. This movie has amazing promotional pictures and a regular aesthetic, but the execution was terrible. I'm the most scared person in world, I've spent months without sleeping because of an horror movie, and I cried out of laughter while watching this one. La Huerta's acting is awful as well. It sucks SO BAD it's now my favorite horrible movie.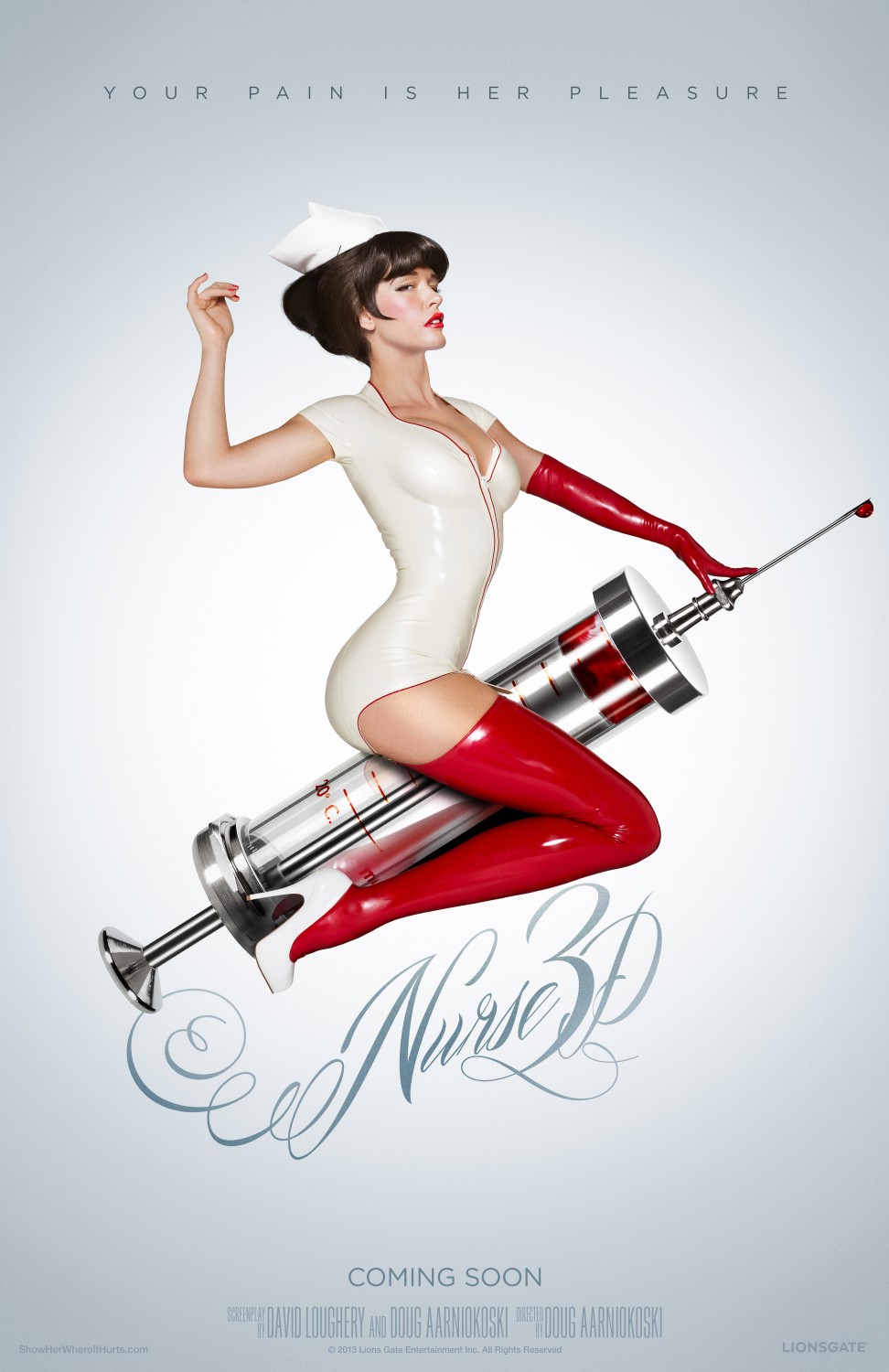 Isso é tudo pessoal! O que vocês leram e assistiram de bom em janeiro? Me conta nos comentários! Beijinhos!
That's all folks! What did you read and watch in January? Tell me down bellow! XOXO