"Boudoir" é, talvez, minha palavra francesa favorita ("é mesmo, Amyh? Nossa, nunca que eu iria imaginar!"). Eu amo como soa, e o que significa. Mas você sabe o que é um boudoir?
Esqueça as sessões fotográficas sensuais genéricas! Estamos falando do boudoir real!
"Boudoir" is probably my favorite French word ("oh, really, Amyh? Wow, I'd never wonder in my life!"). I love how it sounds, and what it means. But do you even know what a boudoir is? Forget about the generic sensual photoshoots! We're talking about the real boudoir!
A HISTÓRIA/ THE STORY:
A palavra vêm do verbo francês "bouder" que significa "enfurecer", sendo originalmente um quarto para uma dama quando ela estiver irritada e precisar se retirar (curioso, não?). Logo passou a ser um local para desenhar e bordar, passar o tempo com a pessoa amada, e finalmente, um quarto bem íntimo da mulher, onde ela troca de roupa e conversa com suas amigas. A entrada de qualquer homem era autorizada somente pela dona do boudoir. O escritor Marquis de Sade, expressando sua admiração pelo boudoir em suas obras, popularizou tanto o termo quanto o cômodo, em especial no polêmico "A Filosofia na Alcova" ("La Philosophie Dans le Boudoir").
The word comes from French verb "bouder", which means "sulk", so it was originally a private room for a lady when she had to withdraw, a room for sulking in (isn't this curious?). Lately, it would be a woman's drawing and embroidery room, a place to spend time with her beloved one, and finally, a very intimate dressing room for both dressing up and meeting with her friends. The entrance of any men were only authorized by the boudoir's owner. Writer Marquis de Sade, expressing his admiration for the boudoir on his works, ended up helping to popularize both term and room, specially in "Philosophy in the Bedroom", one of his most controversial books.
Ao redor do mundo, o boudoir obviamente sofreu alterações de acordo com diferentes culturas. Durante o período vitoriano na Inglaterra, o boudoir era o quarto de descanso noturno da mulher, e ela também teria o quarto de descanso matutino e outro para trocar de roupa, sendo assim, o boudoir era comum apenas em casas grandes e de famílias ricas. Em alguns países caribenhos, era a sala em que a mulher entretinha amigos e familiares. A partir da década de 20, a tendência da fotografia erótica localizada no boudoir surgiu. Hoje, nada mais é do que um lugar bonito para se maquiar e se vestir, como faziam as francesas, embora não seja mais tão comum ter um.
Across the world, the boudoir obviously had diverse interpretations according to different cultures. During the Victorian era in England, the boudoir was a lady's night resting room, and she would also own a morning resting room and dressing room, so the boudoir was only seen in large houses and rich families. At some Caribbean English countries, it was a room where the woman would entertain friends and family. From the 1920's, erotic photography set on the boudoir became largely popular. Nowadays, it's nothing but a beautiful place to dress up, just like French women did, though it's not that usual to have one today.
BOUDOIR FAMOSOS / FAMOUS BOUDOIR:
. Maria Antonieta:
A jovem rainha francesa é com certeza uma das responsáveis por tornar o boudoir um sinônimo de luxo e beleza. Tanto o do castelo de Fontainbleau quanto o de Versalhes são conhecidíssimos;
. Marie Antoinette: The young French queen is certainly one of the names that made the boudoir a synonymous for luxury and beauty. Both Fotainbleau and Versailles castles rooms are very well-known;
Versailles Chateau, via This Is Versailles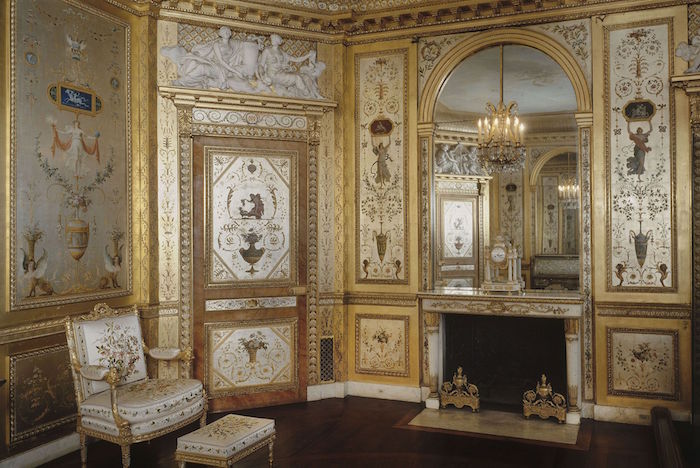 Fontainbleau Chateau
. Jean Harlow em "Jantar Às Oito":
Harlow se mescla com o glamour do boudoir branco e prata, numa harmonia que imortalizou ambos na história do cinema;
. Jean Harlow in "Dinner at Eight": Harlow is as stunning as her glamorous white and silver boudoir, a beautiful harmony that made both Harlow and the room immortal in the history of cinema;
. Dita Von Teese:
É da antiga casa da Dita, e ela vêm vendendo os móveis para começar uma nova decoração, mas seu boudoir inspirado em "Jantar Às Oito" sempre quebrava a internet;
. Dita Von Teese: This one is from Dita's previous house and she's selling the furniture to start a new decoration, but her boudoir inspired by "Dinnet at Eight" always break the internet;
. Rita Hayworth em "Gilda":
O filme inteiro é icônico, porém a cena em que Gilda joga seu cabelo ruivo e reencontra seu antigo amor no boudoir é uma das mais marcantes.
. Rita Hayworth in "Gilda": The entire movie is iconic, but the scene where Gilda flicks her hair as she rencounters with her old love at the boudoir is one of the most memorable sequences.
E isso é tudo pessoal! Depois irei fazer um post só pra falar dos essenciais de um boudoir e como montar um sem gastar muito! Fiquem ligados ;) beijinhos e até a próxima!
And that's all folks! I'll post about the boudoir essentials later, and how to build your very own in a budget! Stay tuned ;) XOXO, see you next time!